Lead sponsor Pinergy were the first to kick off the day and CEO Enda Gunnell was first up to speak. His was by far the best presentation last year – with snazzy graphics and not a powerpoint-style graph to be seen. This year's performance was more of the same, although not all that different from last year. It kicked off with some of the company's growing statistics:
1
The only company that want you to use less of their product
Pinergy pride themselves on this witty line. Their company tagline is "Smarter users use us less". And it's true. Pinergy are taking great strides to help homeowners, tenants and companies be more energy efficient, and therefore use less of their product.
To this end they love giving out great tips for reducing your energy use, bringing out smarter apps for controlling your consumption, and even paying to replace your lightbulbs with energy-efficient LEDs.
Enda raised the issue that other energy suppliers don't really want you to use them less – which begs the question – why does Pinergy?
2
Traditional energy suppliers are like an open supermarket
Enda uses a great analogy here. Traditional energy suppliers are like a very strange supermarket.
You go in and take a trolley, walk around with your whole family. You pick items off the shelves, none of it is labelled or priced, and at the end you just walk out the door without paying the bill, load up your car and go home. Only then a couple of months later the supermarket decides "Hmmm… we think you spent THIS much!" and sends you a whopping bill and you have no idea or recourse to say "Surely I didn't use that much…!"
That's what the traditional relationship is like with your electricity or gas company. Your bills are estimates and only rectified when you take a reading.
Instead Pay As You Go or Smart Metered companies like Pinergy allow you to see what you are spending as you are spending it (or as close as possible) so you can track and monitor your spending like any other good.
3
Pinergy have saved a whole town worth of energy
Finally Pinergy have more of their success story to tell this year. Having launched in 2013, the company has now grown to have installed 40,000 new meters across the country, 75% of which is in residential properties.
On average they have saved their customers 11% off their energy bills and many have saved over 25%. Nationwide that's an annual saving of the equivalent of a whole town of 10,000 people. That's like the whole of Wicklow Town, Cavan, Athy or even Shannon.
4
Paulie cares not for property… or energy
Where there is Pinergy, there is also Paul O'Connell… Well certainly now he's retired from rugby, the face of the Pinergy brand has the time on his hands to turn up himself to support the conference. Host Pat Kenny invited the man on stage for a bit of a chat. All of it about his rugby career and his future in the game (coaching?).
Barely a mention of his friends at Pinergy. Or anything property related.
Still, he was the most exciting speaker of the day!
5
The Central Bank rules did nothing for the Dublin market
Next up to speak was Keith Lowe, CEO of estate agent franchise DNG. Keith's a pro at these things and comes armed with a slide deck full of statistics.
His first insight highlighted how the Dublin property market was already cooling in early January 2015 – before the Central Bank's new stringent mortgage rules came into effect. They were due to, after a rapid and unsustainable rise of over 20% in 2014, the market needed a break to take stock.
The Central Bank's rules weren't necessarily to blame, but their timing wasn't great either.
6
Compared to the UK, our market has a long way to go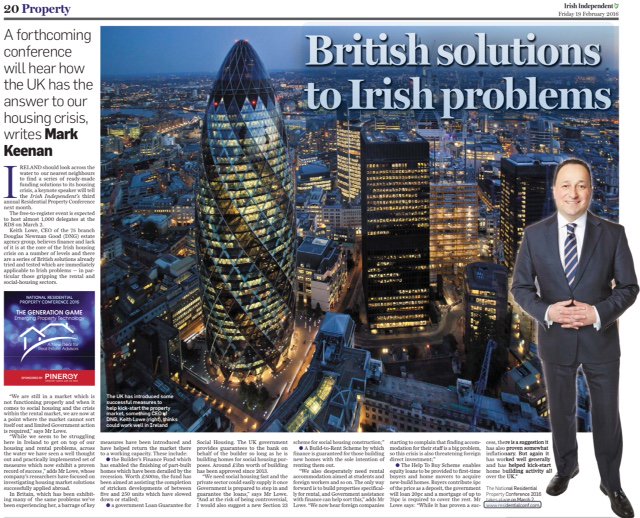 We often discuss how the Irish market compares to 'boom' or 'pre-bust' eras, both in terms of property prices and also volumes of transactions. The number of sales happening each year is at about 10% of the boom levels – but of course this is a meaningless comparison now we know those levels were unsustainable.
DNG have a clever way of comparing where we are and where we should be. By comparing the number of transactions per 1,000 population, against the UK market, we can see how quiet our property market is relative to our nearest neighbours.
While the UK sees about 4 to 5 transactions per 1,000 people each year, Ireland sits at just 1 or 2 per 1,000. Last year that meant about 48,000 transactions whereas if we get up to normal speed, based on the UK numbers, that should be more like 80,000 – 90,000 a year.
Compared to the UK, our Central Bank and mortgage banks have made things doubly hard for First Time Buyers. While the UK has multiple incentives and support for First Time Buyers, here they are penalised. To buyer a €300,000 house in Dublin you would need a €40,000 deposit while their British equivalent would need just £15,000!
7
Technology is the future… or is it?
The news cycle was already discussing the morning the latest announcement from rival property big wigs Sherry Fitzgerald who, working with Samsung Ireland, are launching Virtual Reality house viewings for some of their new homes schemes.
DNG have looked into this technology – and a number of others including augmented reality which was announced with great fanfare two years ago – and then sank without a trace. Keith even showed a video of a Google Glass advert from US property portal Trulia – forgetting that Google Glass was discontinued over a year ago as a failed project.
Keith Lowe admitted some of these products were a bit of a gimmick. In fact the augmented reality they used to launch the high profile Sion Hill estate in North Dublin hadn't sold a single property off plan.
It proves a point – you can't beat walking into a property yourself and no amount of virtual reality will replace that.
8
Mortgages are hard to come by.

The final guest speaker was Permanent TSB director Niall O'Grady to discuss the mortgage market. We'd already seen from DNG how quiet the mortgage market had become. Banks were giving out 200,000 new mortgages a year in 2005 and 2006. In 2015 they lent just 27,000.
Niall shared the telling statistic that the average age of a First Time Buyer in 2005 was 29.
Today the average age is a grey-haired 35!
That's a shocking difference but again Niall agreed with Keith, the Central Bank's new rules were not to blame. It's more that twentysomethings are unable or unwilling to save sufficient deposit to put down a deposit. People are also still marrying later and parents who may have traditionally been able to help with a deposit are in enough trouble with their own mortgages.
9
Lenders have moved the goal posts
This was interesting. Whereas previously mortgage lenders we desperate to give out mortgages, compete with rival banks and win market share – with only the most rudimentary checklist of qualifying criteria.
Now they have completely changed the process and their mindset when giving out loans. It starts with their appetite for risk and that extends across their whole portfolio and is tightly overseen. Fraud is more carefully governed in their verification process now. Another new thing is "Household Affordability" – this is not only checking your income and outgoings to show ability to pay now, but also "stress-testing" your position in case interest rates rise 2-3%.
Finally, and perhaps controversially, banks take into account an investment appraisal on the property they are lending to. After unprecedented repossessions, banks how have one eye on what your asset is worth or will be worth, in case it ends up in their hands eventually.
10
The Market is Improving
Finally it's not all doom and gloom. The mortgage market is growing from a low base. There is scope for mortgages (and of course property transactions) to comfortably double in order to get back to a normal market.
While it is still hard for First Time Buyers to get their first mortage, Niall had signs of positive growth with trader-uppers, who until recently were nearly locked out of the market. Firstly many are climbing out of Negative Equity with the last 2 years of price rises, enabling them to think about moving.
Secondly, many homeowners on tracker mortgages were refusing to move for fear they would lose their lucrative low rates. Now, most banks have set up tracker portability deals so they are able to move home and still keep their low rate mortgage.
Thanks to Pinergy and all the sponsors of today's conference. It's good to see the market has improved in the last 3-4 years and while not perfect, it's moving in the right direction.